Ooh Eck!

This article is a stub because no reason given. That means that it needs fixing - and YOU can help out!
(This template will categorize articles that include it into Category:Stubs.)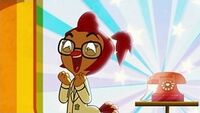 Danger-Thon is the 42nd episode in Season 2 of the Danger Mouse (2015 TV Series).
Colonel K informs the team that, due to a simple accounting error caused by the Danger Agency not doing any accounting, they have to raise £10 million by midnight, to avoid being bought out by Quark! So of course, they decide to run a 'Danger-Thon' and play clips for money!
Some of the clips are taken from later Season 2 episodes that had not yet taken place.