Welcome to Danger Mouse Wiki!
We are the world's largest wiki encyclopedia focused on
Danger Mouse!
Anyone
can edit it! It contains episodes, characters, trivia, fanon, theories, videos, series, cast and much more!
Our database contains
821 articles
and
1,050 images
and has had
10,230 edits
!
On this day: September 13
2017
Episode "Thanksgiving Sinner" aired in the UK.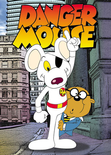 Danger Mouse, voiced by David Jason in the original series, is the world's greatest secret agent. He speaks 34 languages fluently, including some extra-terrestrial ones. Referred to as the "White Wonder" and "Wretched Rodent" by Baron Greenback.
Danger Mouse's favourite catchphrases are "Good grief!", "Penfold, shush!", "Blast!"
He is also a practitioner of the ancient martial art of kung moggy.